Cathryn - Proper amusement, working efficiently
更新:2015-06-15 11:32:49 | 分享:Cathryn ( V741 ) | 来源:原创 | 阅读:291
标签:
Hello, everyone! My name is Cathryn, a girl of 22 years old. I come from Meizhou, a beautiful city of Guangdong, which is called "The Hometown of Gold Pomelo" and has a typical hakka culture. Now I'm a student of Guangzhou Railway Vocational and Technical College, majoring in applied English specialty.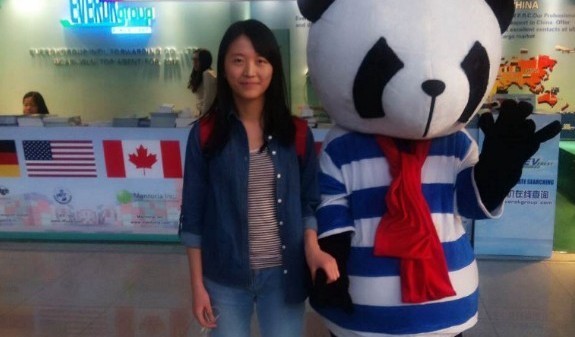 My individuality can be described as honesty, a strong sense of duty, and working well under heavy pressure. In my spare time, I like surfing on the Internet, listening to music, watching movies and climbing mountains, because they can make me feel relaxed. Nobody could keep on working efficiently, therefore proper amusement is a must.

I guess you maybe interested in what is my plan after I graduate. I would like to tell you that to attend graduate school at SunYat-Sen University or Guangdong University of Foreign Studies is my goal. From my point of view, a highly educated person is more tend to get a better job than the ordinary one. And I also feel like studying in a beautiful and authentic university.

As to the English corner in Haizhu Square, it was Bill who suggested me to join it. And it was really grateful and meaningful to go there. In the English corner, I encountered with people from all walks of life in different age. In my opinion, it is a good idea to divide the participants into several small groups, for every participant can have an opportunity to speak English and is more likely to exchange his ideas with others in a small group.

I have attended the English corner of Zhongshan library for several times. After contrast, I find that I have more opportunities to speak English and express myself more freely at Haizhu Square. Moreover, I made friends with lots of young people who also desire to improve their spoken English as well as learned some precious experience from the elder people. In short, I harvested a lot from it. Therefore, I will try to attend it as much as possible.