Eving - We are young
更新:2016-09-16 16:42:59 | 分享:Eving ( V3304 ) | 来源:原创 | 阅读:96
标签:
Hi, folks! I'm Eving, a guy born in Jieyang, Guangdong, but now I live in Guangzhou where I just graduated from university (well, Guangdong Baiyun University it is) in July this year. My job is 3D printing, and now I work for the Chinese Academy of Sciences in GZ branch.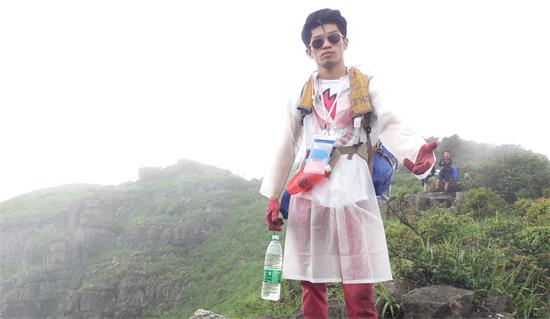 We are young forever if our attitude doesn't get old!

Youth is capital! So you should take advantage of being young, and do what you wanna do.

Well, l like swimming, and l'd be a lifeguard which was a very big challenge to me three years ago when l'd never found a job myself before and gone so far away from home to do such a job. It is kind of dangerous but so meaningful, even more dangerous to me, when I was wet behind the ears.

And l like X-sports.Youth means a temperamental predominance of courage over timidity, of the appetite for adventure over the love of ease. Mountaineering and Outdoor Survival are both X-sports, and I love them. Chuandiding mountain is the second highest one, but the most challenging one in Guangdong. I have mountaineered several times, but this time is hardest for me, because it is the graduate line to "Donkey friends". Finally, l conquered it.

So, l like singing, and then l take part in the competition. Well, it's a great pleasure for me to meet GEC, while there's a brief encounter feeling in my mind. GEC is a marvelous platform to learn things and make nice friends. From my point of view, this competition is a great chance for us to show ourselves and train our ability to be on stage.

This time I wanna sing the song "We are young". Maybe l'm not good enough sing the song, but this is the real voice from my heart, which just represents my attitude and my words.

So don't be shy, don't be afraid, just have a try, because we are young!

Youth is not a time of life, it is a state of mind. Years may wrinkle the skin, but to give up enthusiasm wrinkles the soul. Worry, fear, self-distrust bows the heart and turns the spirit back to dust.