Jackie - Sophomore & suffer more. Enjoy my life!
更新:2015-11-11 15:15:34 | 分享:Jackie( V869 ) | 来源:原创 | 阅读:359
标签:
Hello everyone,My name is Jackie , a same name with Jackie cheng(成龙),difference is I am not a movie star.I am a sunshine boy come from a beautiful city of Jiangxi province.I have stayed in Shenzhen for three years, and moved to Guangzhou in 2015.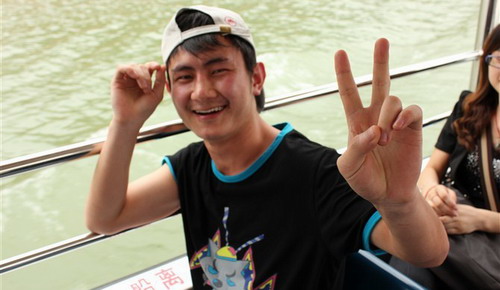 When I was a sophomore,my english teacher taught us suffer more would get more .Sometimes I felt embarrassed when I met a sudden situation that I was not foresee,however I belive suffer more will get more.Just enjoy it !

I am an engineer working for a foreign company.I love english ,I got my first job just because my english introduction. After I recite my english introduction to my employer,he looked at me with amazed face,then I got that job .

GEC was the first English corner I took part in Guangzhou,I had practice my oral english here.I am so active to be a teamer though my english is not good.I can't catch companion's meaning, then I change the topic.Once there are only three persons in my team,somebody go to other teams just because there is a foreigneer.I was so embarrassed.I got a brain storm,get my team with another one together,and begin our topic disscussion.I think I should take more time to such activities.Another time, a boy has the same name with me, then I change my name to Mr.Chen immediately.

I love english ,

Months ago, ,I took pat in GEC group.Thanks Molly and Seas,wisky. unlike my boss, you never push me. Also thank you all the volunteers, for organizing such nice activities. And guys, if anything else I think it's good to meet and talk in the Corner. I like make friends , I am Jackie,I am here waiting for your coming!Come and join us ! Without hesitate!