Activity Report: Glow Run Night Race
更新:2018-08-04 00:30:01 | 分享:Jessie ( V6581 ) | 来源:原创 | 阅读:1
标签:
Activity Report: Glow Run Night Race

Team One

August 1st, 2018


Late July at scorching summer night, 12 Team One members from Guangdong English Community (GEC) walked out of Exit A, Canton Tower metro station, and were busy on their ways to arrive at the gathering place. With packs of visitors clustered around Canton Tower, members must have gone through quite some difficulties breaking through the crowds and reached the destination. But their expectation and excitement for glow run race, co-organized by AIESEC, Jinan University branch and GEC, did not seem to be faded at all.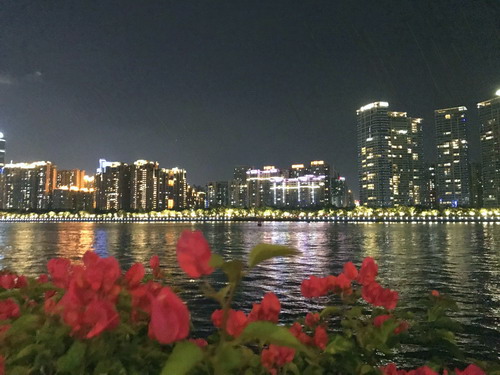 Leaders for Team One arrived at the gathering place and received one team's share of running gears, including fluorescent head-wears and bracelets,as well as a glowing stick. The gears became the very first bond connecting members together, with leaders helping members put on the gadgets and members chatting around and taking selfies. Before the running began, members who were previously not acquainted became familiar with each other, which already set a friendly tone for the upcoming night race. Interestingly, the gears served not only the bond between members, but also that between team members and passengers who happened to pass by. Some of the passengers showed their great interest on the gears, and started to ask about the GEC night event. Some kids were even curious about the prices of the gears, but sorry, definitely not for sell (though some members regretted they did not do so during the race).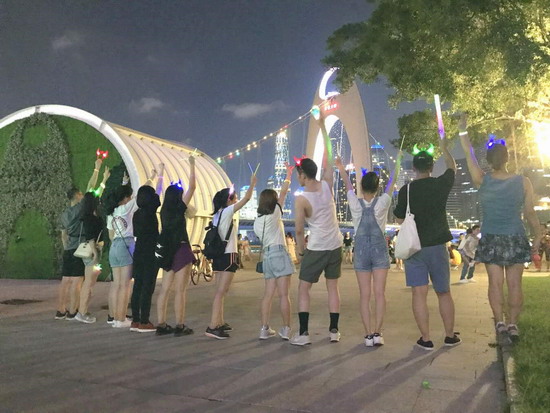 When all of the members were in their place, team one set off from around Canton Tower, heading towards the next stop Pa Ti. Team leaders cheered for the team and led the way, and members began to run and sing along the streets. It was quite a challenge to keep running and singing at the same time, which could be demanding on one's lung capacity. Even though some members did feel out of breath (including me), they enjoyed the process and did not really care about the questioning glaces from random passengers in the streets. When passing by some of the landmark buildings or beautiful scenery, members stopped for a while to take photos together (here's a cheer to Team One's photographer girl Summer). Approximately halfway on the run, Team One came across their first game challenge, which required team members to imitate and strike a pose. After a brief discussion, members were distributed to different position and to make their poise. Although some of the poses were so hilarious that members could not help but laughing, team one accomplished the task and successfully overcame the challenge. Hooray!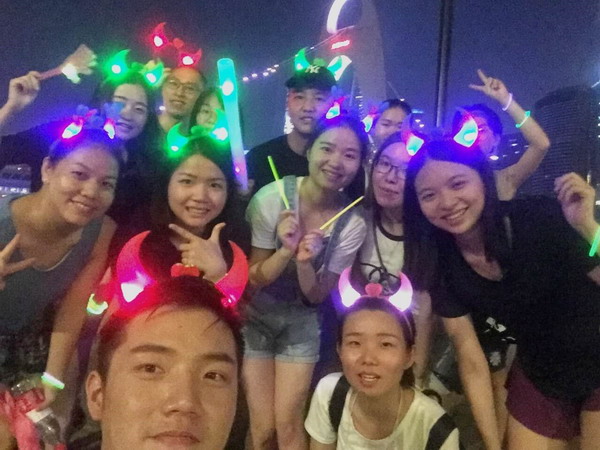 Due to unexpected (and probably unknown) reasons, Team One did not have the chance to confront other game challenges. However, Team One was the third team who made it to the finish line, and all of the members were safe and sound. While some members were waiting for the subsequent dancing party, the others were chatting with random GEC members by the river bank. It was a Sunday night with cool night breeze, and it appeared that everyone were seizing their last moments to rejoice and relax before (dreadful) Monday.

Last but not least, here's a few words to add: for team one members, it's very nice to meet you all, and thank you for together spending such an incredible night. Keep in touch in the WeChat group and look forward to the next outdoor event. For GEC organizers and volunteers, thank you all for the massive efforts on preparing the night event, your dedication is well deserved and respected.